Are you a hunter? Have you ever bagged a large buck, or boar and stressed over how to store it so that your hard work doesn't go to waste? Well, hopefully you know about one of the best ways to preserve meat and keep it safe from freezer burn. Of course, I'm talking about vacuum packing.
Most cooks know about, and use this method of food storage but its not just restricted to restaurants and kitchens because, as I have written many times, vacuum packing can be used for a variety of uses – and one of them is packing and storing freshly killed meat to prevent it spoiling.
So, if this sounds interesting then you need to take a few minutes to check out the best vacuum sealers for hunters.
I've already covered how a vacuum sealer works in this post so I'll just summarize here. Basically, a vacuum sealer creates an airtight seal around food, in this case meat, that helps keep it fresh. It prevents bacteria growing meaning that the meat wont spoil and it also prevents freezer burn.
These smart little machines are pretty cheap and are very easy to use – and, yes, you can use them with almost any cut of meat that you can fit into a freezer bag.
So, lets get down to business.
Why Do You Need A Vacuum Food Sealer?
So you're a successful hunter? Great. But you have a problem. What are you going to do with pile of meat that you've brought home? How can you preserve it – after all its the ultimate sin to let your spoils go to waste.
Well, it's a common problem but its one that can easily be solved.
That's because by using a vacuum food sealer you not only preserve the meat but you preserve its taste and nutrition as well.
But, before we discover what the best vacuum sealer for hunters is, lets take a look at why you need to use one to store the meat you kill.
By vacuum sealing, you can keep the meat fresh and edible for years. Most types of meat will last almost indefinitely and, generally, still tastes great for up to 3 years so you will minimize waste.
Vacuum sealing removes the air and so keeps the freshness locked in. This means you can store more food as its more compact but you can also keep it for longer than just using ZipLoc bags on their own.
Freezer burn becomes a thing of the past. meat that is stored often develop a brownish-grey texture that affects not only its look but also its taste. Meat affected this way is often tasteless and dry when cooked and loses a lot of its nutritional value. Luckily by vacuum packing the food you prevent this from happening.
So, hunters, whats keeping you from buying a vacuum food sealer? Well, here's a few answers to some of the questions we regularly get asked.
Will Vacuum Sealing Preserve the Food's Quality
Yes!
The most important benefit of using a vacuum sealer is it keeps the food as fresh as the time it was killed – or at least as fresh as the day it was packed. There's a secondary benefit however because storing meat in the freezer without vacuum sealing can, as we've said, cause freezer burn.
By vacuum packing the meat you will not only ensure that its taste is preserved but also that it will retain its nutritional goodness and texture. Meat will emerge from the freezer as tasty as the day it went in rather than hard, dry and unappetizing if it is vacuum sealed.
Get This Top Selling Vacuum Sealer On Amazon Right Now
[amazon box="B07GVPMH4Z" template="horizontal"]
Does Vacuum Sealing Preserve Meat?
Some foods dont lend themselves to freezing. For example, fish such as eels, beef jerky, or even fish heads, can all be affected by freezing because of their low moisture content (jerky) or high moisture content (eels) which make them difficult to thaw and cook. However, because they are protected by the vacuum process, they tend to preserve in the freezer as well as any other kind of food. So, by using a vacuum food sealer you can keep and use almost any part of your kill.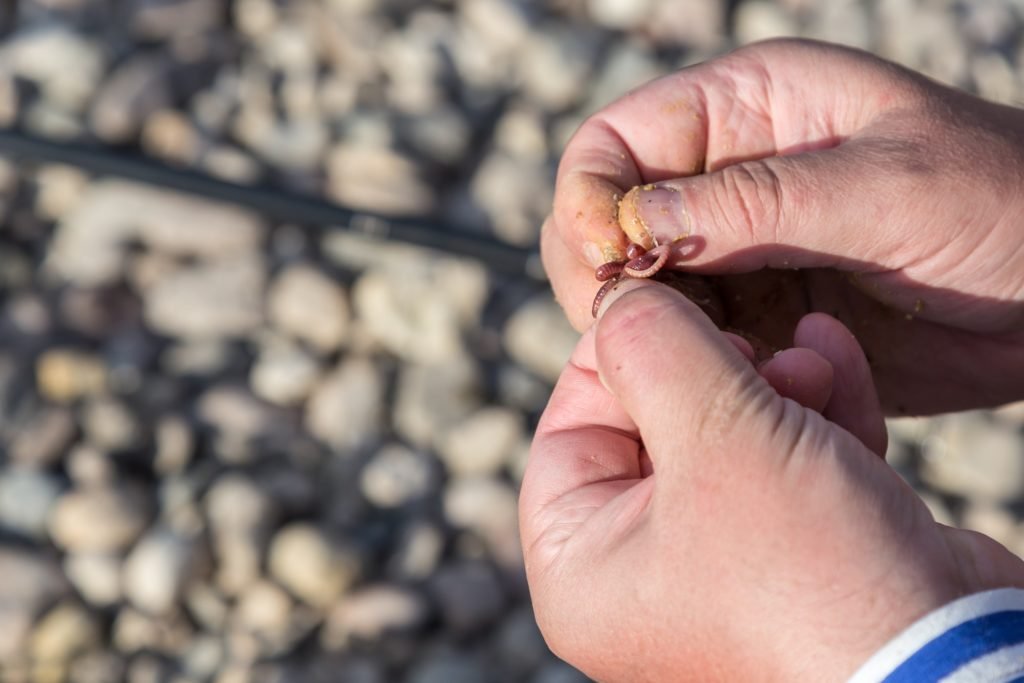 Tip: fishermen, you can also use a vacuum food sealer to preserve bait – just make sure that you keep different kinds in separate bags. This means, of course, you can save money by bulk buying and freezing the bait until you are ready to use it.
Does Vacuum Sealing Help Keep Your Freezer Organized?
It certainly does. Because the air is removed, not only do you save space but you can stack cuts of meat more efficiently. As long as you stack similar cuts in one place, and have a good labeling system you can get much more into the freezer and find it quicker.
A Quick Comparison
The comparison table below outlines what I believe are the best vacuum sealers for hunters currently on the market as well as some key information such as their weights and dimensions. It also provides information about the unique features of each unit. Hopefully it will help you pick the right one for your needs.
[amazon table="445″]
So, What is the Best Vacuum Sealer for Hunters?
OK, we're finally here. Now that you know why you need to own a vacuum food sealer if you are a hunter, its time to look at our top picks. Remember to head on over to Amazon to pick up the best possible price on these models.
1. Best Overall – Foodsaver V4840 Vacuum Sealer
The Foodsaver V4840 is the latest in a long line of 400 series vacuum food sealers from this well known manufacturer. Foodsaver machines have long been known for their superior build quality and impressive range of features at a sensible price – and this machine is no exception
I like this model not only because its very easy to use but because its also one of the most powerful models of its type. Of course, if you really need extra sealing power – for larger cuts of meat say, venison, then you would be well advised to look at buying a chamber sealer but, for most cases this machine will do a very good job.
It has an impressive feature list including bag detection, full automatic mode, a powerful suction motor and built in bag dispenser.
The unit is also certified by UL and ETL and the company states that maintaining safety is their priority. The unit has been tested to make sure that it is safe for usage.
Product Features
Built-in roll storage
Custom size bags
Can store any kind of meat
Safe for use
Product Specifications
| | |
| --- | --- |
| Dimension | 11 x 20 x 12 inches |
| Weight | 10 pounds |
| Automatic Moisture Detection | Present |
| Automatic Bag Detection | Present |
| Warranty Period | 5 years |
Pros
Automatic Moisture Detection
Fully automatic operation
Great build quality and looks
Pull-out drip tray remover
Airtight heat seal
Easy to clean
Cons
A bit slow and noisy
Produced a lot of plastic waste in my trial
Heres a quick demo of the Foodsaver V4840
[amazon box="B00DI342IW" template="horizontal"]
2. Best Compact food Sealer – GERYON Vacuum Sealer
[amazon box="B07B4W5PMB" template="horizontal"]
Not only does this unit work well and look great but its one of the most compact that I tested and, if you are a hunter who likes to travel and vacuum pack as you go (is that a thing?) then the Geryon food sealer is an ideal choice. Weighing it at only 2.6 pounds it can easily be slipped into a rucksack or tactical backpack to take with you whenever you venture out and about.
Although its compact its actually very easy to clean as you can remove the entire upper lid which gives easy access to all of the inner parts of the machine. The unit is reasonably quiet when working and while its not the most powerful vacuum sealer I tested, its good enough for most jobs.Given the competitive price – you can find it on most websites for around $70-$80 – its really a great choice for people who need a compact vacuum sealer.
With almost 20,000 reviews on Amazon, and most of them 5 star it seems as though I'm not alone in linking this model. And, when it comes to hunters, one user has even stated that they used this machine to process an entire deer. Apparently, it "worked extremely well, did a perfect job" and was "crazy easy to use with both the bags and rolls".
Product Features
Two sealing modes
Time and money-saving
Eliminates air while storing
Fully automatic vacuum sealing
Product Specifications
| | |
| --- | --- |
| Dimension | 2.6 x 5.5 x 14.4 inches |
| Weight | 2.6 pounds |
| Rated Voltage | 110-120V AC |
| Rated Power | 110 W |
| Rated Frequency | 50 to 60 Hz |
| Sealing Time | 6 to 10 seconds |
| Length of Power Cord | 3.3 feet |
| Vacuum/Suction Strength | 12L/min |
| VAC Time | 10 to 20 seconds |
| Construction Material | Engineered ABS |
Pros
Stores dry and moist meat
Keeps the meat fresh
Airtight vacuum seal
Lifetime warranty
Easy cleaning
Cons
Not good with moisture
Bad longevity
Click on the link to take a look at the product:
3. Best for Liquid Foods – VacMaster VP215 Chamber Vacuum Sealer
[amazon box="B005ETDKEA" template="vertical"]
VacMaster have been making top of the range vacuum sealers for many years and are generally considered to be one of the best, most reliable brands around. However, they excel when it comes to chamber vacuum sealers and the VACMaster P215 is one of the best you can buy. Its not cheap at just under $1000 but if you are a serious hunter then its worth every penny. It features a powerful rotary oil pump and a large vacuum chamber which handles most cuts of meat with room to spare.
Unlike cheaper edge sealer models, the VacMaster P215 has a unique double seal system that, according to the manufacturers is twice as strong as the seal on normal machines so, again, its ideal for larger or unusually shaped cuts of meat.
Its biggest selling point, however, is that its designed to vacuum pack liquids – which normal edge sealers don't do (or are too messy to bother with) so you can seal succulent cuts of meat or even stews and soups with ease. It's very easy to use and built to handle the toughest jobs so your money will be wisely invested , especially if you have a lot of food to vacuum pack.
With over 350 positive reviews and an impressive 4.6 star rating on Amazon, its clear that many people agree with us when we say this is the best chamber vacuum food sealer you can by right now.
Product Features
Powerful rotary pump
Handles soups, stews and liquids
Low maintenance
Simple to use
Heavy duty, high quality construction
Product Specifications
| | |
| --- | --- |
| Dimension | 20 x 14 x 15 inches |
| Weight | 84 pounds |
Pros
Easy to use
Low maintenance
Powerful vacuum
Large chamber
Keeps food fresh up to 5 times longer
Cons
Heres a quick video explaining how the VacMaster works
4. Best value for Money – KOIOS Vacuum Sealer
[amazon box="B07FM6VL7V" template="horizontal"]
The vacuum sealer is quite inexpensive and the design is compact and sleek. The unit also comes with 10 sealing bags. The unit helps in storing meat that can remain fresh 7 times longer.
You will receive a lot of accessories like a cutter when you purchase this unit. You get more on behalf of what you pay. You also get a replacement sealing sponge and a pumping pipe.
Product Features
Lock the vacuum and seal
Fill bag available
Seals dry, as well as moist meat
Increases meat life
Product Specifications
| | |
| --- | --- |
| Dimensions | 14.6 x 2.9 x 5.9 inches |
| Weight | 3 pounds |
Pros
Keeps meat fresh 7 times longer
High-temperature resistance technology
10 special bags
Replacement sealing sponge
Inexpensive sealer
Cons
Included bags are not good
Create noise while operating
For more information, select here:Watch video: KOIOS VS2233 Vacuum Sealer
5. Best for Meats – VAC-VIDA VS301 Vacuum Sealer
[amazon box="B0795WYL1H" template="horizontal"]
The vacuum sealer is one of the best sealers for those hunters who are ready to invest an extra amount. Initially, it can be a little expensive but it works better when compared to any other alternative.
It can be used with cheaper plastic bags also and in this way, a lot of money can be saved. The brand also offers the best customer service and it also comes with a warranty period.
Replacing any part of this sealer is quite convenient as it is easily available. It comes with a convenient control system that makes it easier for the hunters. By hitting the right button, you can seal the packets also.
Product Features
Easy replacement of products
Convenient control system
Excellent operation system
Packs juicy meats
Product Specifications
| | |
| --- | --- |
| Dimensions | 20 x 14 x 15 inches |
| Weight | 77.6 pounds |
Pros
Eliminates all air
Quite a dry pump
Sleek design
Cheaper plastic pouches
Reliable pump
Cons
Difficulty while changing the oil
Expensive product
If you are interested to know more about the product, click here:Watch video: VAC-VIDA VS301 Vacuum Chamber Sealer Review
Some Tips For Selecting The Right Vacuum Sealer for Hunters
Selecting the right vacuum sealer can be quite difficult as there are a lot of models on the market each with different pros (and cons) and all of them at different price points. However, if my opinion, if you consider the following aspects of the device then you will. ultimately, arrive at the right one for your needs. So , lets take a look at what I consider to be the most important factors when deciding which one to buy.
Noise Levels
Who would have thought sucking air out of a bag could be so noisy! Its a act that some vacuum sealers are, unfortunately, quite loud. Now, I doubt that you will be using them while tracking your prey – that would need a very long power code – but no one likes to have to listen to the hum (or roar in some cases) of a vacuum sealer doing its thing.. This is especially true if you are sharing a cabin with your buddies – thats a sure fire way to cause friction. So, it pays to try and find a nice quite, compact device and keep the noise to a minimum. Basically, thew more powerful the motor, the more noise it will make which is why chamber vacuum sealers are often noisier than edge sealers.
How Much Does It Cost?
Ultimately, you should receive the best for what you are paying. Spending too little means you are not purchasing a superior quality product and can lead to many problems in the future. Try to look for something that is neither too expensive nor too less. It is important to spend that much amount that is satisfying. After all, when it comes to selecting the vacuum sealers, the hunters would like to opt for the best one.
Easy for Sealing
Before moving further, you must understand that some of the vacuum sealers are quite difficult to handle when it comes to sealing. In that case, checking your skill level before purchasing the vacuum sealer is important. Select an easy-to-use product if you have never used a vacuum sealer before. Do not use a vacuum sealer without reading the instruction manual that has been provided while purchasing.
Size of the Vacuum Sealer for Hunters
The size of the vacuum sealer is an important factor for most people but, for hunters it should be a major consideration. If you need to take it with you on field trips then you will want a small, light, compact sealer. However, these have their limitations as they are generally only suitable for smaller cuts of meat from animals such as rabbits. If you are hunting larger game such as deer or board then you will probably want to buy a larger, more powerful sealer. Anyone who packs fish, especially larger species such as tuna or shark will want to seriously consider buying a chamber vacuum sealer as these handle foods which have a high liquid content much cleaner and simpler than traditional edge sealers. Convenience and good results are important for most hunters so make sure you take your needs and choose the right size of vacuum sealer.
How Easily Can You Get Consumables?
The compatibility of the unit is an important parameter that a hunter must consider. If a hunter is looking for a particular brand, it might become difficult to get the product of the same brand every time. It can also create problems as the product might not be available always. In that case, selecting a vacuum sealer that can offer a maximum level of compatibility would be the best option. By doing that, you can attain better results and there is no need to search for extra bags also. You can seal the meat by storing it in any bag.
Warranty Period
Being mechanical devices, there are moving parts, motors and circuit boards that can wear out. So, it pays to make sure that your vacuum food sealer is backed up by a good warranty. Of course, all of the models I have reviewed above are from well established, reputable manufacturers and all of them come with a minim,um 1 year parts and labor guarantee. However,, just like choosing any consumer device, always make sure you are covered if things break or go wrong. most products on amazon state their warranty.
My Top Pick
Foodsaver V4400 Vacuum Sealer is the vacuum sealer that I would recommend to hunters. It comes with a 2-in-1 vacuum sealer, seals freshness, and automatic bag detection. If you wish to use this product, you can definitely try it out.
Well, a vacuum sealer helps the meat hunter to store the meat. It helps in keeping the meat fresh for a long period. After reading the entire review guide, you must have now understood which vacuum sealer would be the best one for you.
Hopefully, this review guide has provided the required information regarding the best vacuum sealer for hunters. Make sure you consider the features, pros, and cons before selecting the best one.